Lie in the sand and visualize like its 75 again
Dear World,
A couple of days ago my friends and I decided to make our own dinners and to just enjoy each other's company. It was about 5 of us so it was really just laid back. Well, I didn't really make dinner, I just kind of sat there. I wasn't just sitting there because I was lazy, I mean yea I'm lazy, but if I were to be cooking people's lives would be in danger. So I guess it works out to everyone's benefit that I just sit on the sofa and watch reruns of Desperate Housewives as everyone else slaves away in the scorching kitchen. So after dinner was made we all just sat around the table and ate.
Somehow the topic of Dumbledore's sexuality came up. For those of you who don't know, Dumbledore is a character in the wildly popular Harry Potter books. Apparently J.K Rowling made him gay? First off, you can't just make people gay with a flip of a wand, and what was the point of making him gay? Is he going to come out to the children of Hogwarts when the next book comes out? I don't know what her intentions were with that, but that's beside the point.
When my friend said "Oh yea apparently J.K Rowling made Dumbledore gay," I responded with "That's stupid, that doesn't do us any good." Emphasis on us. Did any of you guys catch what I just did? I said us, as in that doesn't do us gays any good. I realized what I was saying like 2 seconds after I said "us," but because I didn't want to correct myself and draw even more attention to the slip up I just completed my sentence. My friend looked at me and said "Us? are you a part of the gay community?" She said it really jokingly and I said "I met us as in, it doesn't change the storyline of Harry Potter at all, and that it was pointless to have Dumbledore be gay. Like it doesn't do us readers any good." Good save huh? Damn I am fast on my feet.
I mean the whole situation wasn't that big of a deal, but it had me thinking. If I unconsciously referred to myself as an individual in the gay community by using the word "us" maybe I am that much more comfortable with myself. I never would of made a mistake like that years before. So I'm thinking I am getting there. So thank you Dumbledore for helping me realize that I am much more comfortable with myself. So maybe J.K Rowling did have a purpose for making Dumbledore gay. Watch, the next book Dumbledore gets caught having sexual affairs with Ron and Harry. But for now, let me have my moment. Dumbledore is gay because he helped me realize that I am a tad more comfortable with myself. Lastly, I leave you all with this image.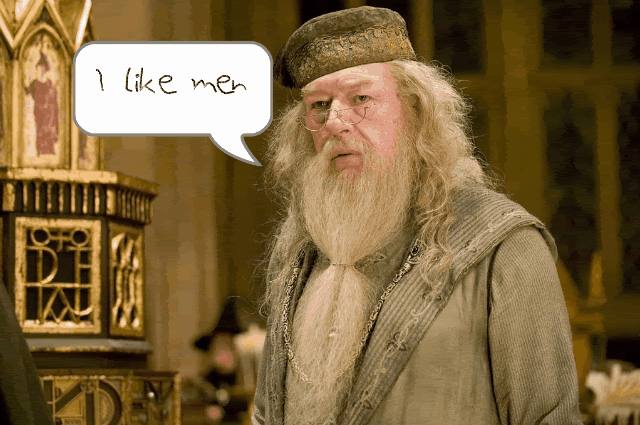 Peace and Love,
Anonymous